New and established small businesses, self-employed people, and agencies have asked me what tools I use for keeping things organized and on track. As an early (and I mean early in some cases) adopter of tech, I LOVE to check out new ways of organizing projects, automating tasks, and eliminating painpoints. This list is my current toolset I use to organize the business side of things: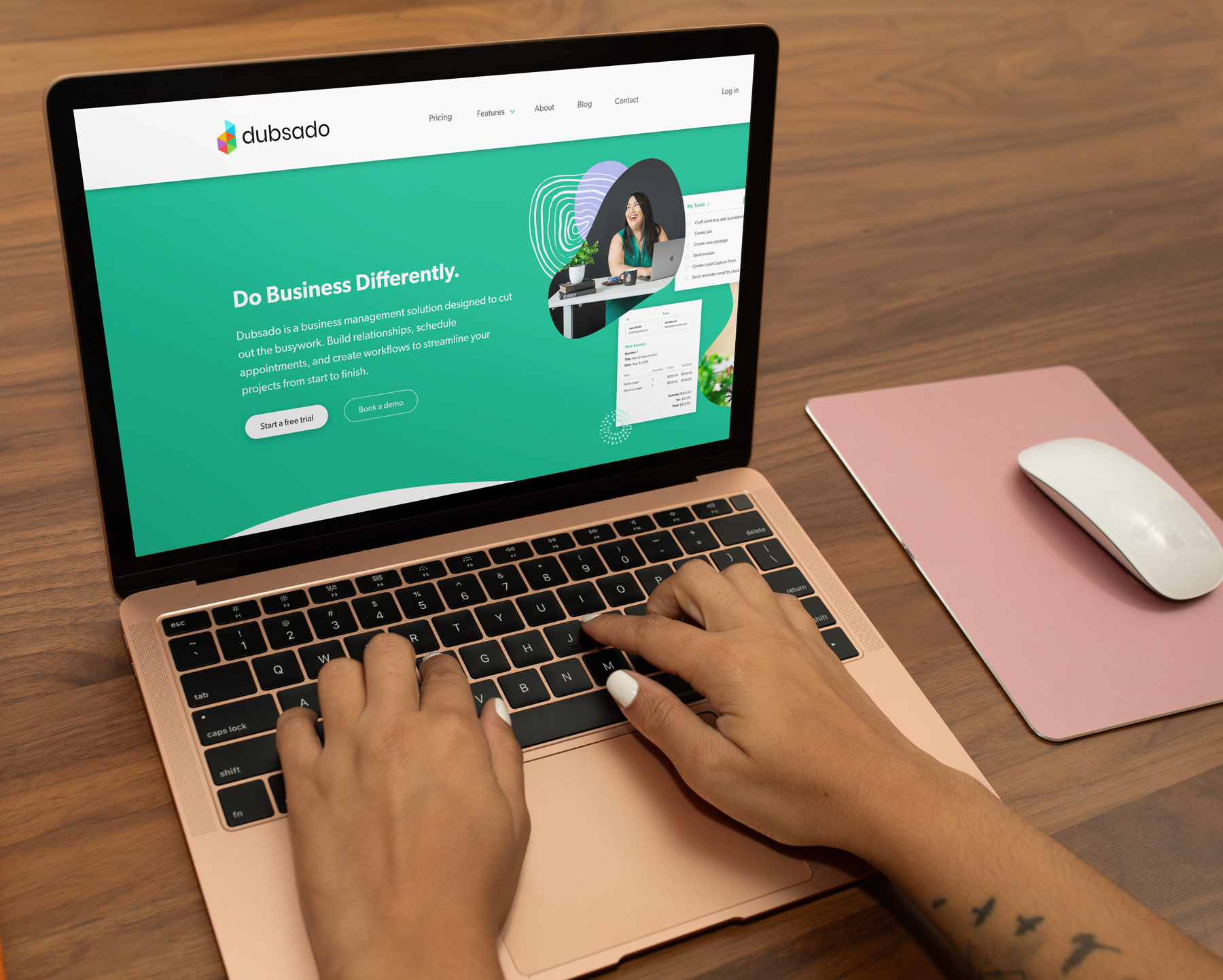 Dubsado
DOCUMENT SIGNING, BUSINESS MANANGEMENT, CRM, CMS, WORKFLOW AUTOMATION
One of my painpoints I had a few years ago was getting contracts signed in a timely manner to keep projects on schedule. I would send a PDF of my contract, and often clients would fumble with how to sign and send back. Some would print it out, sign it, and then struggle with scanning it in and emailing it back. Some would mail it back which would delay urgent projects by days or weeks. I had signed up for Docusign years ago, and maybe it was because it was new itself, I found it was still confusing to clients.
When I heard some others raving about Dubsado, I researched it and some of its competitors. THIS would finally be the answer to my painpoint of contract signing! However, using it just for that would be way too expensive. Dubsado would have to include other useful features to me to justify its somewhat costly amount.
What I use it for:
✓ Contract writing, designing, and signing
✓ Proposal writing, designing, and signing
✓ Website inquiry forms
✓ Inquiry form workflow automations
✓ Project-related questionnaires
✓ Client subcontracts
✓ Project status categories
✓ Content gathering
✓ Client document portal
✓ Scheduling and booking calls

Downsides: The user interface isn't the greatest. I find features can be "tucked" behind others. It isn't the best for onboarding with non-techy people.
Additional upsides besides what I use it for: Support is great. LOTS of features (that can be "tucked" behind other features!).
If the above speaks to you, get 20% off your first month or year with this Dubsado code. Disclosure: I get a month free if you sign up.
Wave
INVOICING
Although Dubsado does invoicing as well, I prefer (for now) using Wave for my project invoicing. I like its organization, ease of invoice creating, ability for recurring invoices, and ease for clients to pay. There is also talks of Wave integrating with Dubsado in the future. [crosses fingers]
Toggl (aka Toggl Track)
TIME TRACKING
It's been a great tool for years for time tracking. It's simple and integrates with ClickUp (see below). Toggl recently expanded to offer other services, but I just use it for time tracking.
ClickUp
PROJECT MANAGEMENT
I've pretty much have tried all of the project management tools. ClickUp claimed to be the "one app to replace them all" so took the bait. And I liked it! I will say project management software preference is highly dependent on your brain, your team's brains, or even your type of business. I used Trello for years on hundreds of projects, but at some point, I outgrew it. I tried Asana and although it was ok for a few reasons, I really disliked it for many more reasons. ClickUp combines what I liked about Trello and Asana and expands on many more things.
Dropbox
FILE BACKUPS, SHARING LARGE FILES
In combination with an external server, I use Dropbox Business for file backups which is such an important step in a professional workflow. Besides that reason, I also use it to transfer large files to clients especially deliverables at the end of a project.
Google Docs and Sheets
AND
Microsoft Word and Excel
DOCUMENT WRITING, SPREADSHEETS
I love Google Docs and Sheets for their online sharing. Meaning I can jump from working on my laptop to working on my iPad and still use the same document. I keep Microsoft Word and Excel (through Microsoft 365) because some clients NEED something in Word and I find the document types don't always translate correctly across the two.
More info about Google Docs and Sheets | More info about Microsoft 365
Apple Notes
NOTETAKING
Super simple, build-right-in notetaking that syncs across all of my Apple devices. If I don't want to open a browser to work in Google Docs and want a small screen space footprint on my laptop, Notes is a great tool! I've recently purchased Notability for some advanced PDF notetaking, so I'll report on that in the future if it's worth the purchase.
Apple Notes comes with your Apple device, but if you've deleted it, you can download Apple Notes here.