Spring, my favorite time of year, is always made better by a Mojave Desert Land Trust Native Plant sale! This year's sale was online and kicked off on April 5th. I had my calendar reminder set and we perused the available plants the days before.
Lucky for us, I was able to get everything on our wish list. I picked up our new plants on April 10th and we got planting!


The New Plants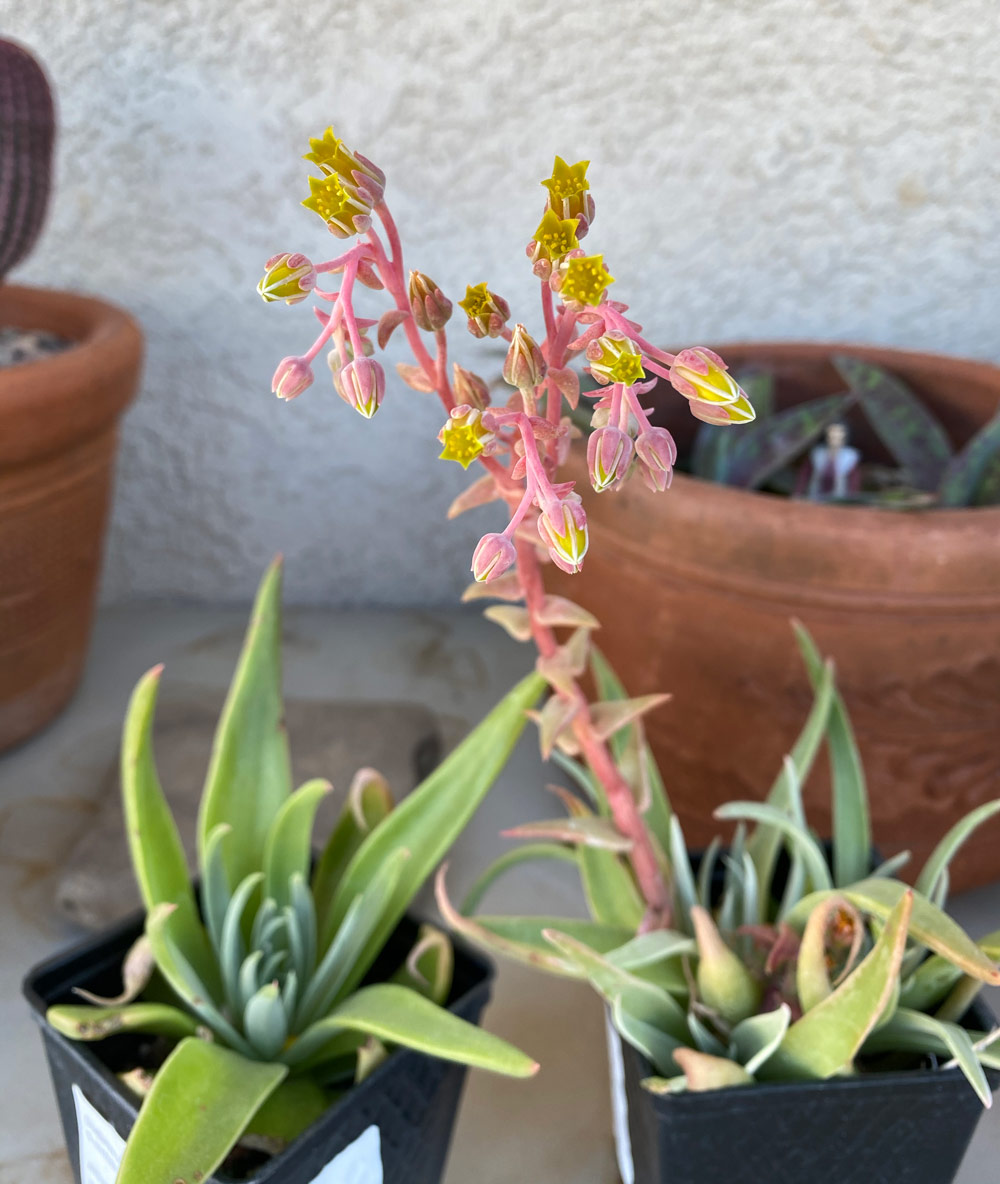 Above: Two Dudleya saxosa ssp. aloides, one is blooming
We got two of the beautiful Dudleya saxosa ssp. aloides. We haven't planted them yet. I'm waiting to be fully COVID-19 vaccinated before I go buy a special planter for them.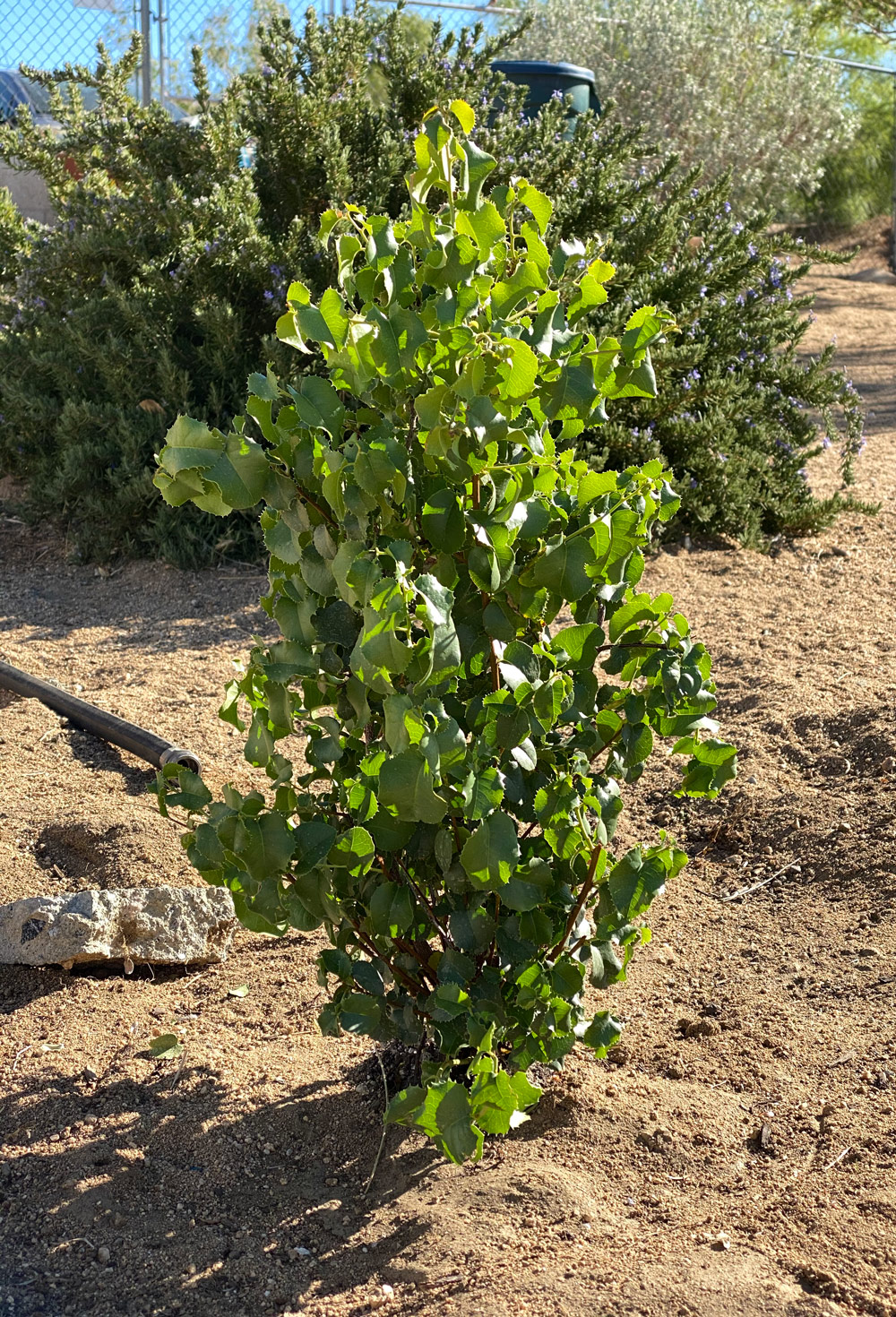 Above: Prunus ilicifolia
New to our orchard area is the Hollyleaf Cherry (Prunus ilicifolia). It produces edible cherries.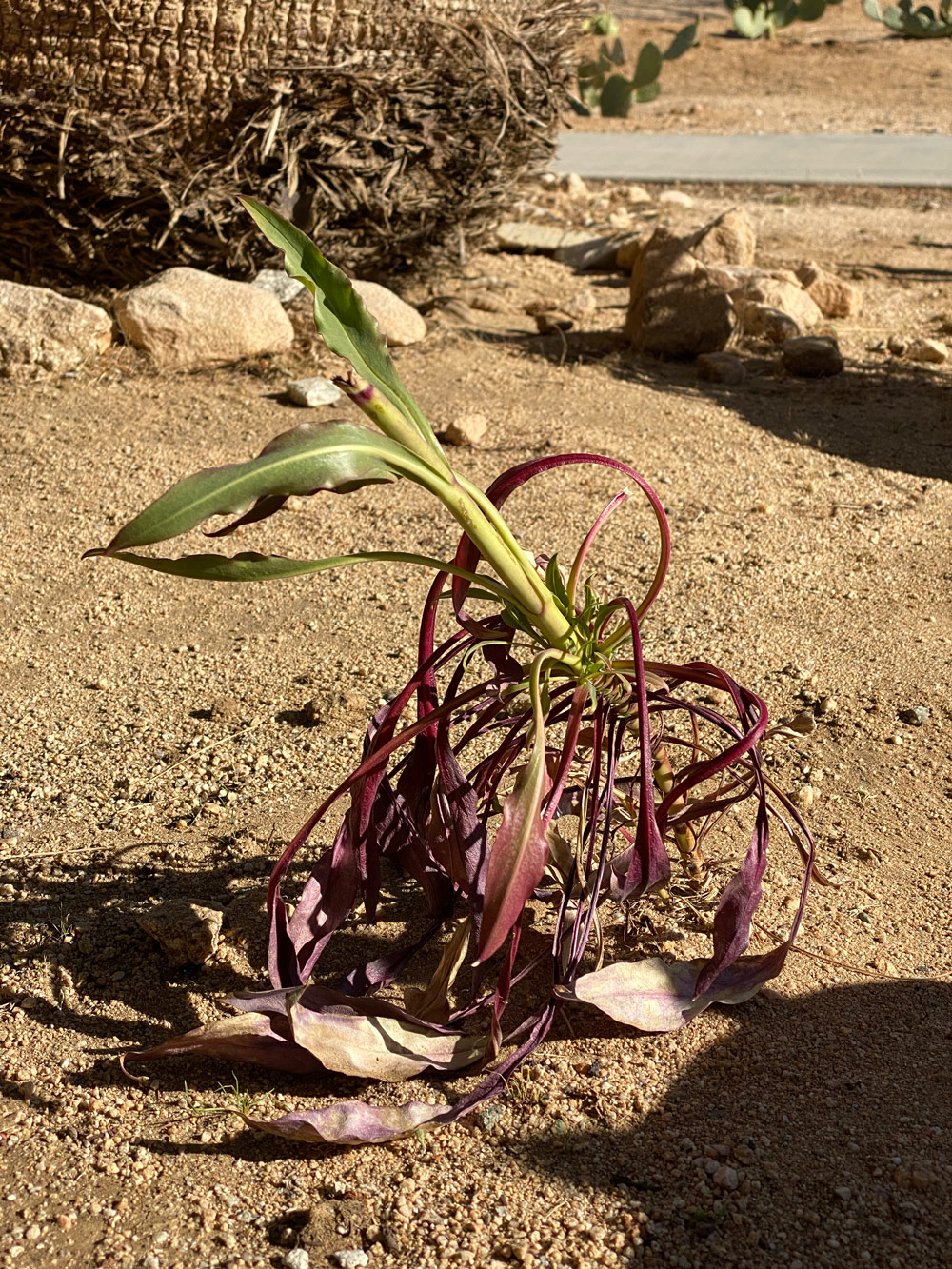 Above: Penstemon eatonii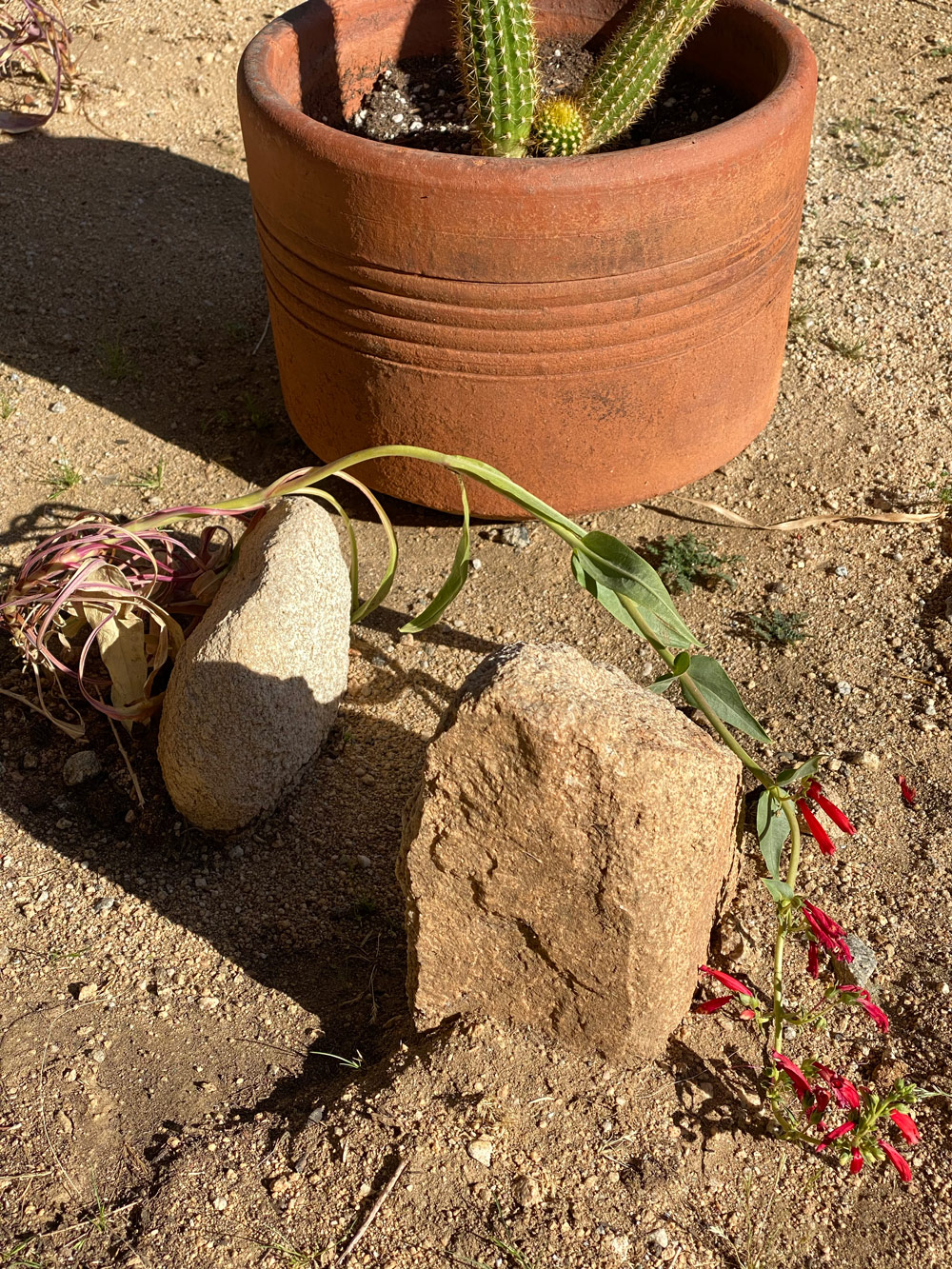 Above: Penstemon eatonii with flowers
These Penstemon eatonii, also known as Firecracker Penstemon, were on clearance for $2 each so we picked up 10 of them. They were incredibly root bound and very difficult to get out of their little pots. They were also very floppy with their long flower stem and had been growing that way. They may not look spectacular at the moment but I'm hoping they adjust well enough to their new homes to grow more upright in the future. Hummingbirds have already flown in to drink from their bright flowers even though they're resting just a few inches from the ground.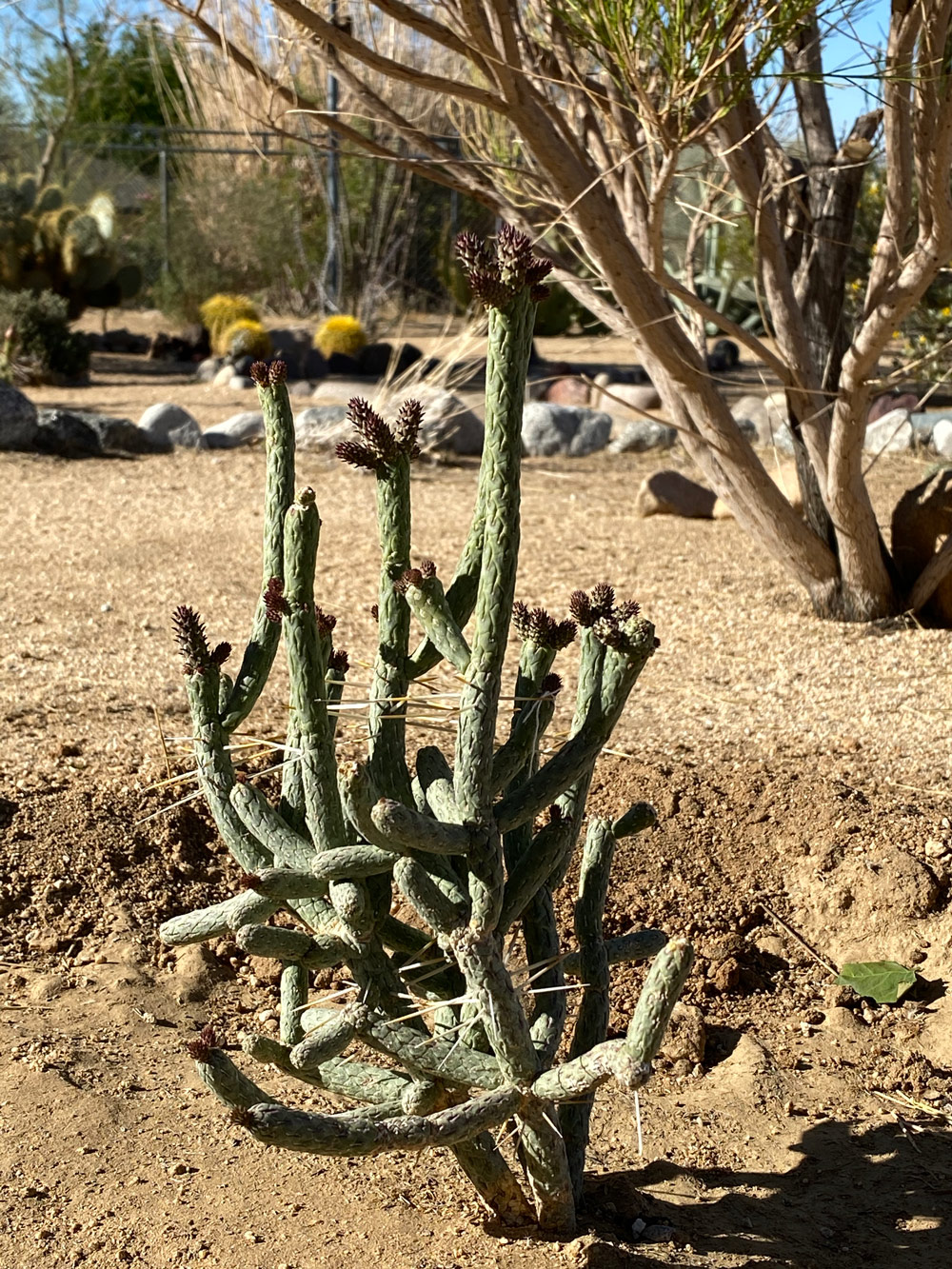 Above: Cylindropuntia ramosissima with a Desert broom in the background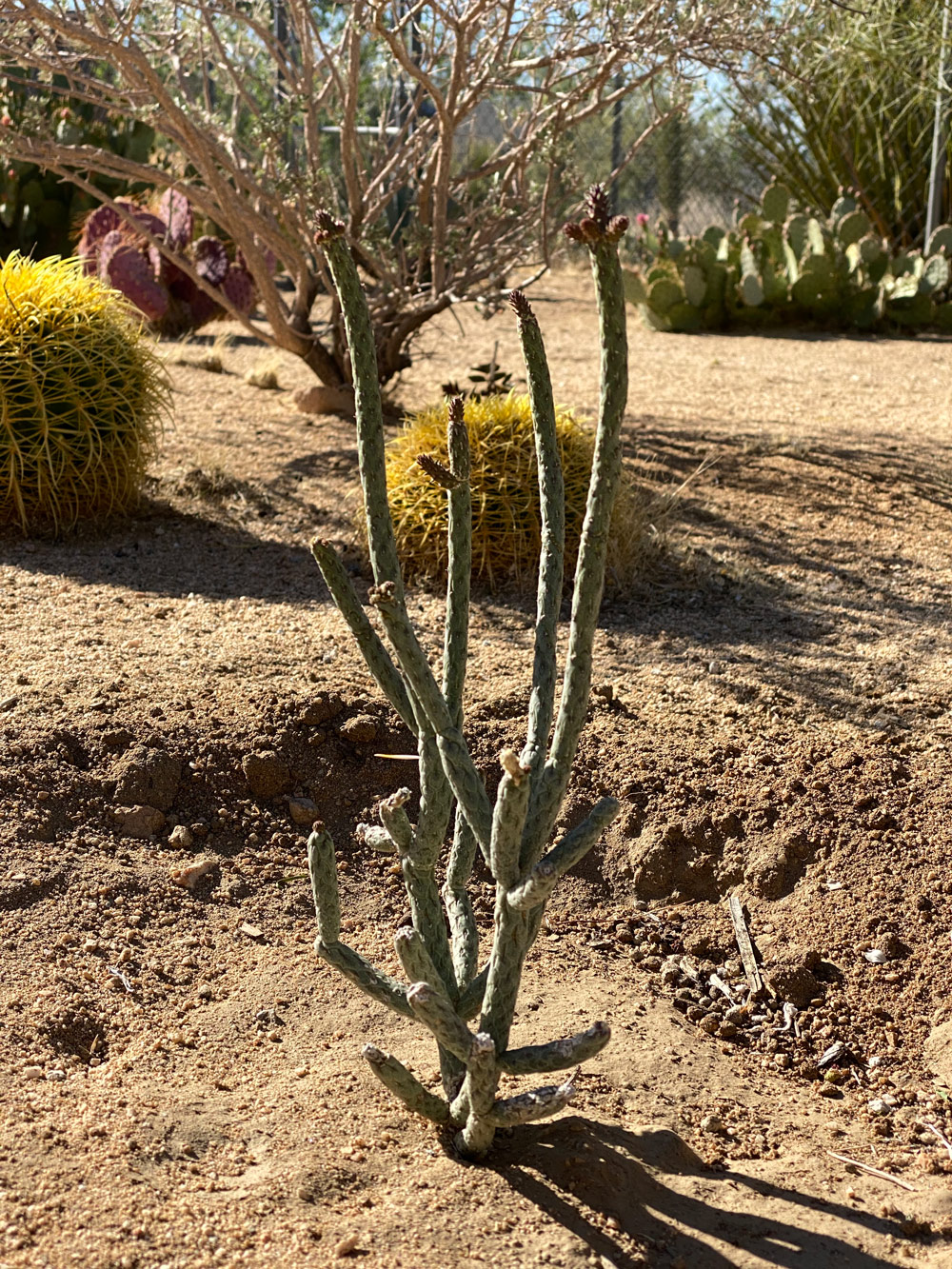 Above: Cylindropuntia ramosissima near two Golden barrel cacti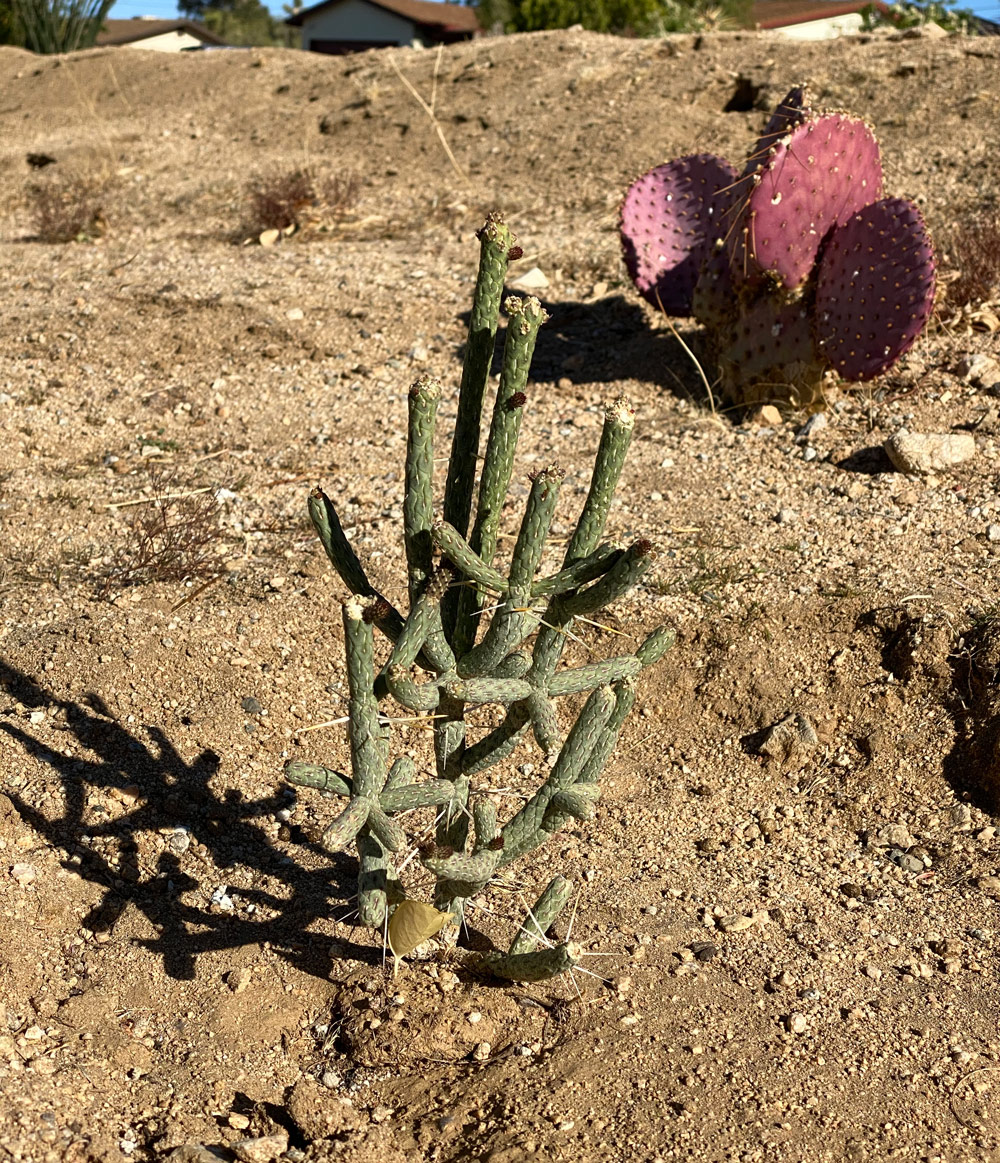 Above: Cylindropuntia ramosissima on a slope near a Santa Rita cactus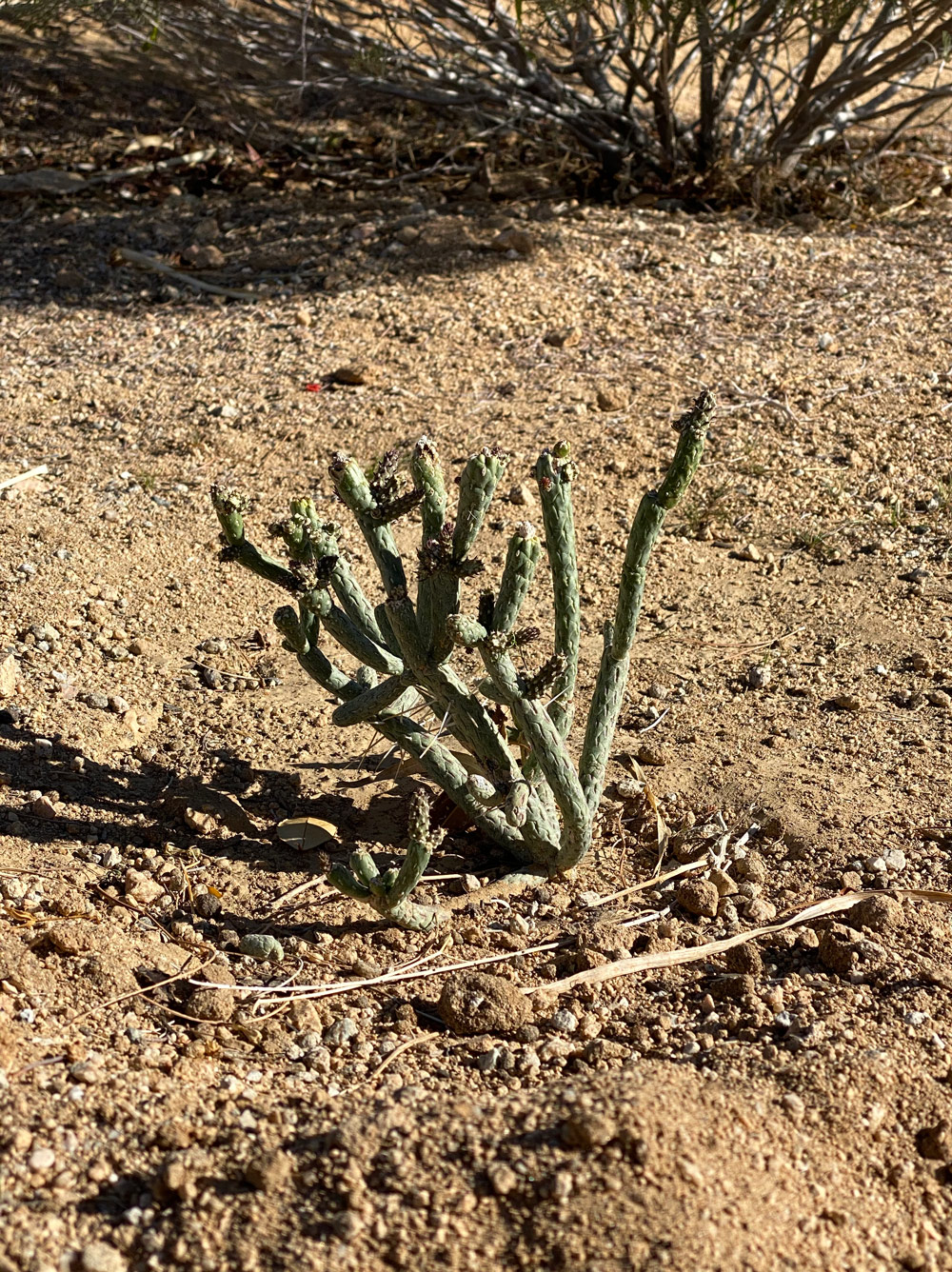 Above: Cylindropuntia ramosissima with the base of a cassia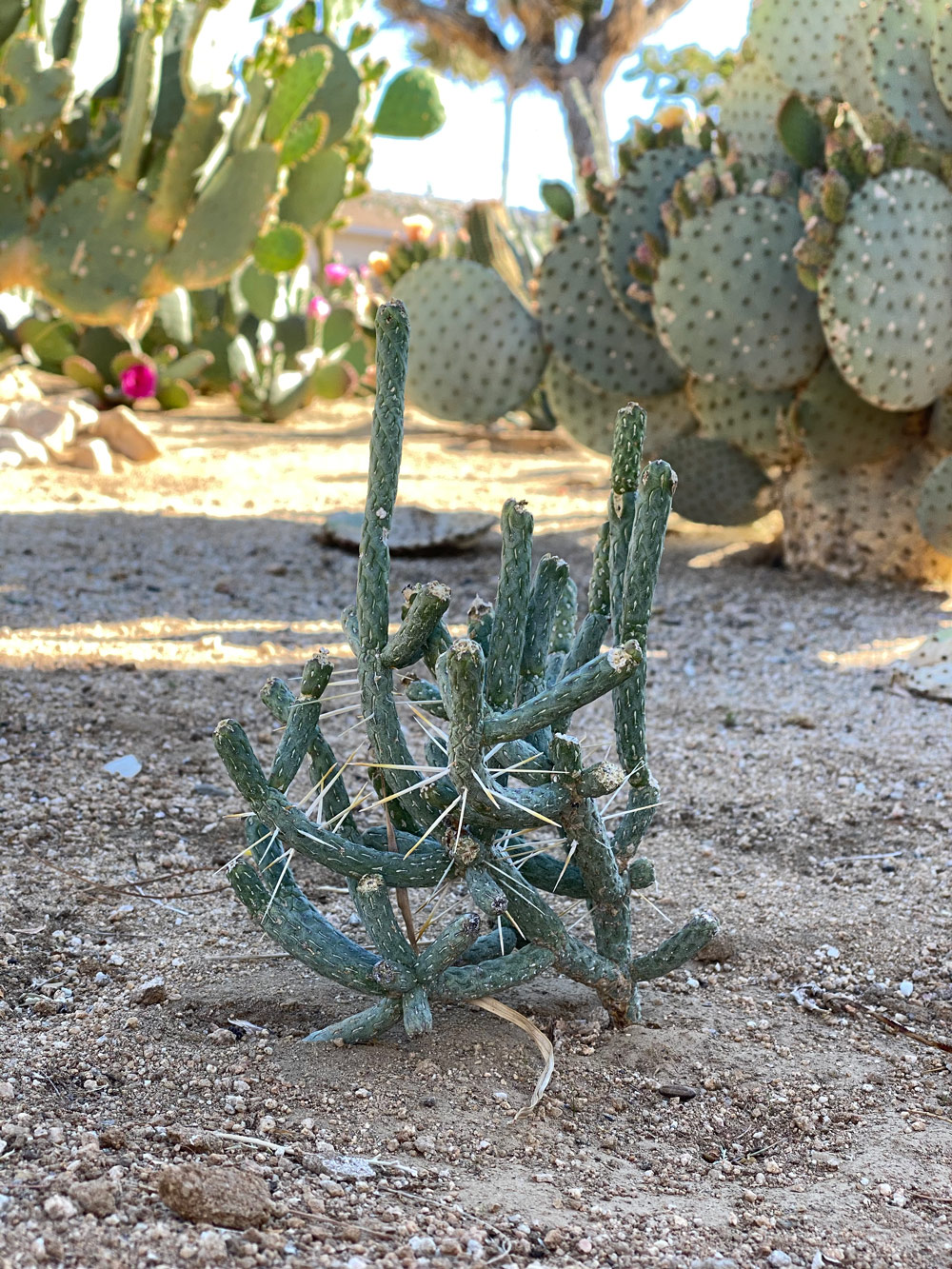 Above: Cylindropuntia ramosissima nestled amongst large prickly pears
When we saw Pencil Cholla (Cylindropuntia ramosissima) on the plant list, we just had to get it. So, we got five! I love how they look around the gardens.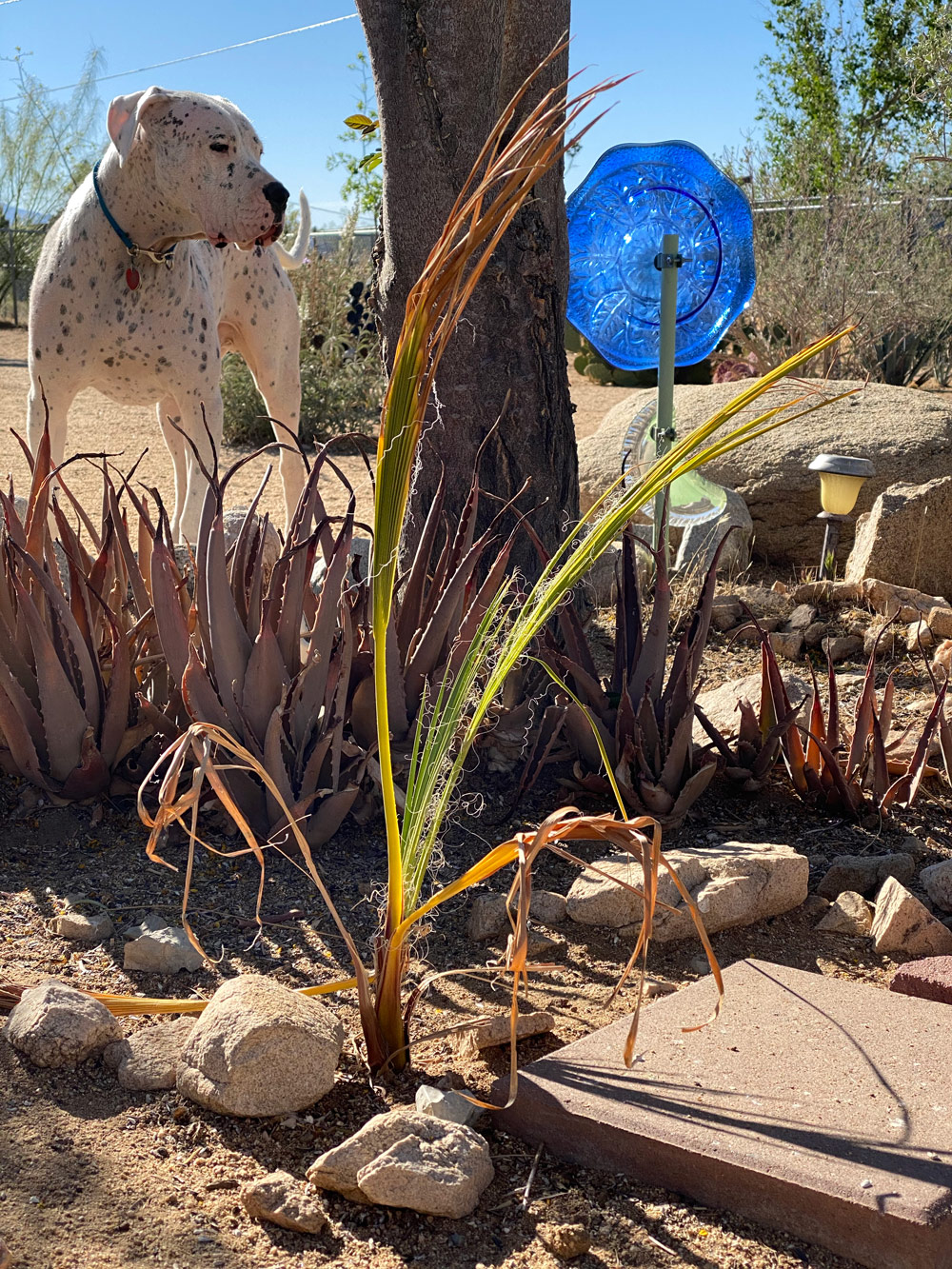 Above: Washingtonia filifera planted near some aloe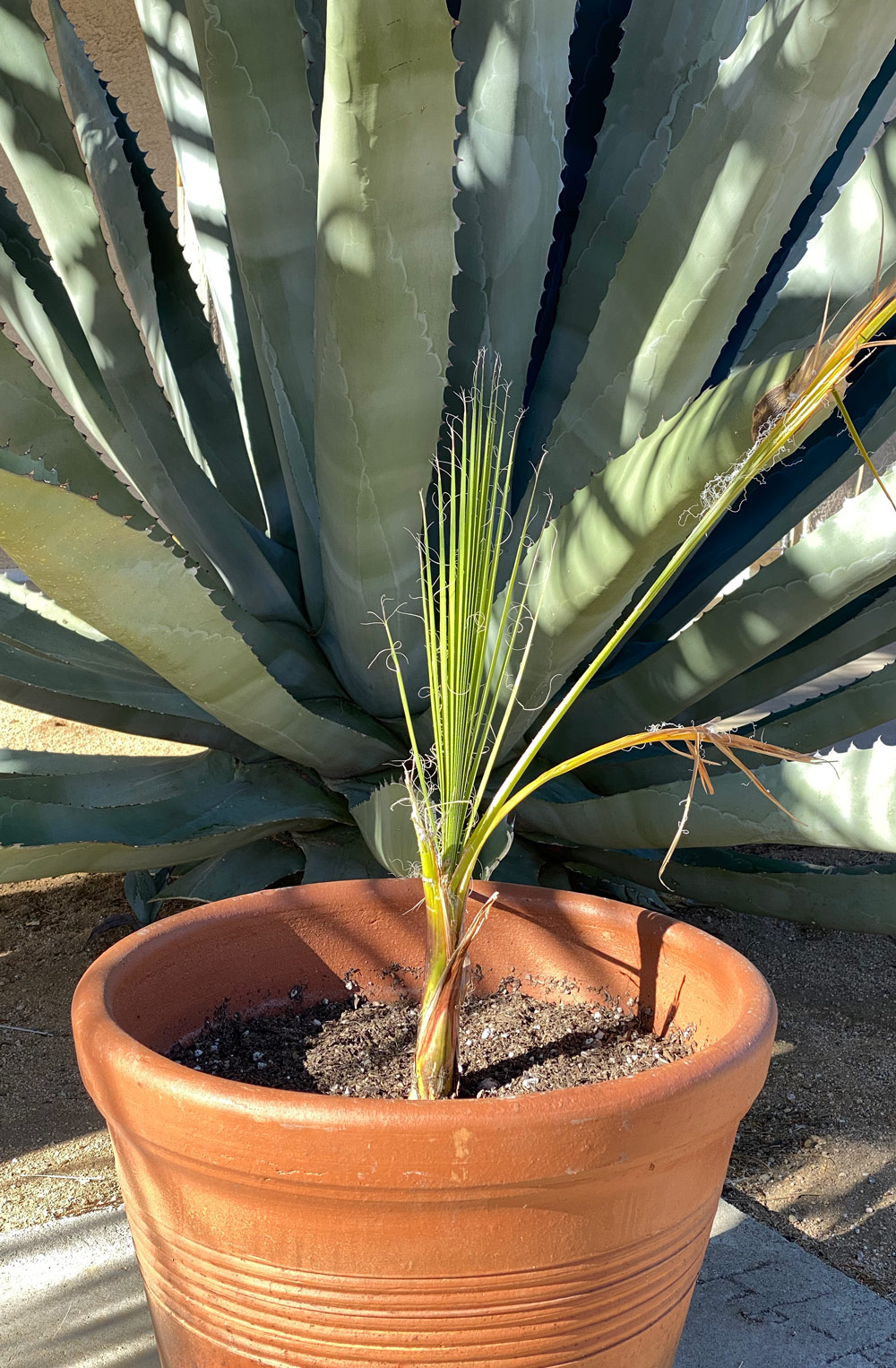 Above: Washingtonia filifera in a large terra cotta pot in front of a huge agave
The last plants we picked up were two California fan palms, which also happens to be the only palm tree native to California. All of those other palm trees you see throughout Palm Springs, the Coachella Valley, Los Angeles, etc. were originally brought in from other places in the world.
We actually had two Washingtonia filifera, about this size, but we lost both of them last summer. The heat was one issue. The other issue was I didn't water them enough. I was hoping they'd come back, but they didn't.
So we're trying again. The old ones were in these large pots. This time around, we're trying one in the ground in an area that gets watered from our swamp cooler drain. The other is potted but I plan on keeping a regular water schedule this time.
However, this potted one has already experienced something traumatic. See that big silly dog in the first California fan palm photo? Yeah, that guy ripped the one from its pot and was having a great time pulling at the roots and making a big mess on the patio. After spending the other morning cleaning up the dirt mess and repotting it, I relocated it outside "the dog zone" in our front yard. I hope it recovers. Otherwise, we'll wait for the next MDLT plant sale to pick up another.