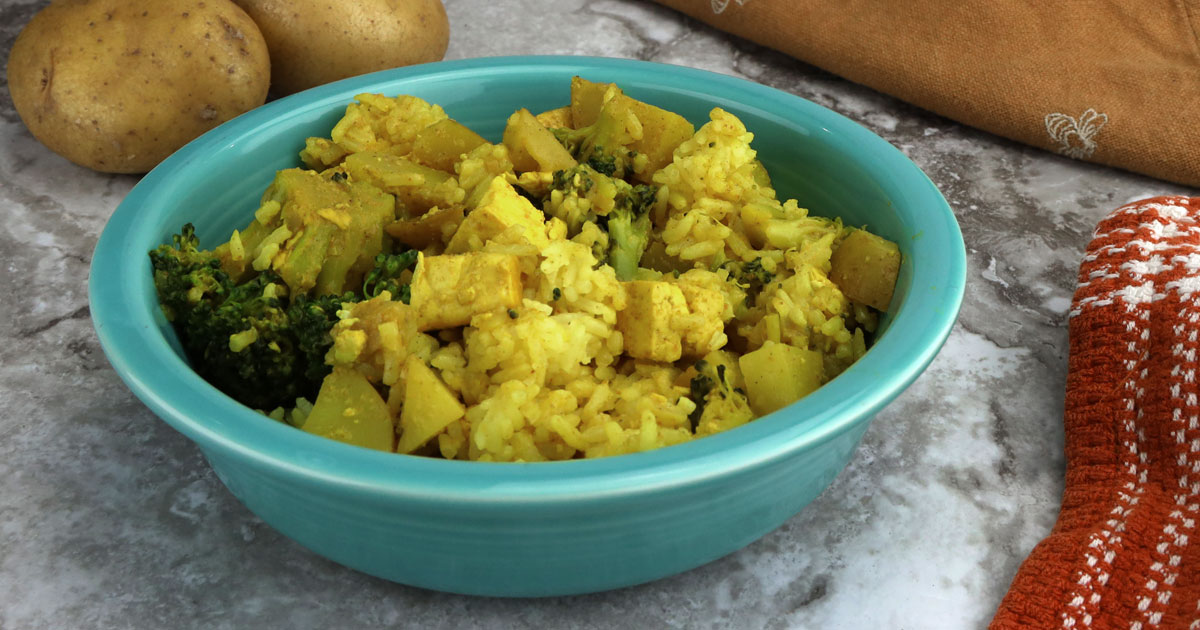 Ingredients
Main
2 packages of Extra Firm Tofu
16oz of Broccoli
4 Yellow Potatoes
1 can Coconut Milk
1/2 cup Water
2 Tbsp Splenda (I'm avoiding straight up sugar. You can use sugar though.)
Spice Mix
I was out of veggies so I used the powdered form.
1 Tbsp Onion Powder
2 Tbsp Garlic Powder
1/2 Tbsp Ginger Powder
3/4 Tbsp Chili Powder
3/4 Tbsp Salt
2 Tbsp Tumeric Powder
3 Tbsp Curry Powder
1 Tbsp Ground Corriander
Rice
2 cups Jasmine Rice
2 1/2 cups Water
2 Tbsp *Spice Mix
Directions
Drain water from tofu packages. NOTE: I don't press my tofu.
Cube tofu:
Then cube the yellow potatoes to about the same size as the tofu cubes.
Make the spice mix. To do that, in a small bowl mix together all of the spice mix ingredients.
In medium bowl, pour in the coconut milk. Add the Splenda and about 1/2 of the bowl of spice mix (you should reserve the rest). Whisk together.
Heat up a large wok on medium-high heat.
Pour the 1/2 cup of water in the botttom of the wok. NOTE: I avoid oil as much as I can when cooking and stir fried wok dishes are great for using water instead of oil.
Add the tofu to the wok.
Let the water come to a happy boil, then lower the temp to medium-low
Add the potatoes, broccoli, and curry spice coconut milk mix. It's ok if there is some water still left in the wok.
Let it cook on a high simmer.
For the rice: In an Instant Pot, add 2 cups Jasmine rice, 2 1/2 cups water, and 2 Tbsp of spice mix. Set Instant Pot on Rice Mode.
While the rice is doing its thing, stir the ingredients in the wok frequently.
Sprinkle in any remaining spice mix too the wok and give everything a good stir to blend in the spices.
Make sure your potatoes are covered by the liquid the best you can, and let the wok cook. Your broccoli will soften and your tofu will absorb the spices.
Your dish is ready when 1. the potatoes are softened and cooked through and 2. when the rice is done in the Instant Pot.
Carefully release the steam from the Instant Pot when the timer goes off.
Fluff the rice with a fork, turn off the Instant Pot, and turn off the stove burner.
Serve the tofu yellow curry over the rice.