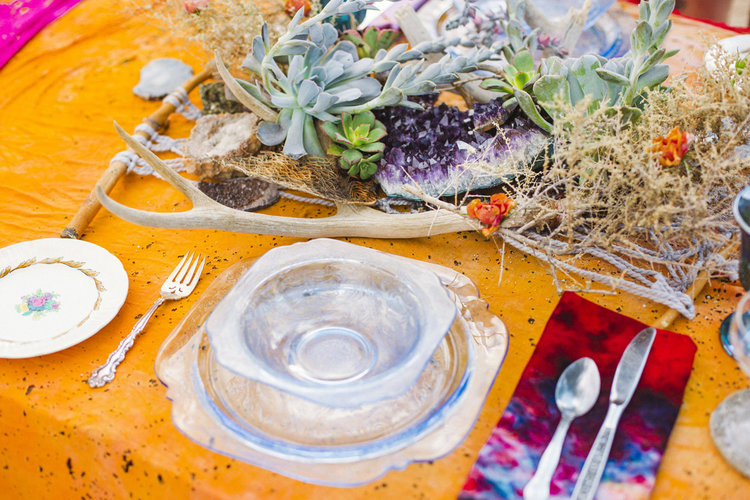 In August 2016, I was contacted on Instagram by photography duo Sage and Swan asking if I'd be interested in collaborating with them on a desert-inspired photoshoot that was going to take place at the Mojave Sands Motel in Joshua Tree. I was immediately intrigued and contacted them back. They had a very fast approaching deadline and with the many things happening this summer, I was concerned if I'd be able to help out afterall. I asked them what exactly they were looking for to help out their photoshoot. They were doing a table setup and needed a table runner of sorts. I hadn't created one yet, but it seemed like a pretty straightforward project.
But time wasn't on my side. Or at least at first. I had been super busy with my days filled up. With only two days or so until the deadline and an evening appointment in between, I was sort of giving up on the fun idea. Then, my appointment was rescheduled for a later date. I had an entire evening free!
I worked for hours on a new piece using yarn I had gotten from a desert thrift store. I had been saving cut tree branches from our yard for upcoming macrame projects chose a Palo Verde branch that was just the right size. I cut and filed off the sharp thorns that come with a Palo Verde tree. Also, I had been wanting to incorporate a cholla cacti skeleton into one of my pieces for a while and what better time than a desert-themed wedding shoot?
I stayed up working into the early hours of the morning but I didn't care. My new macrame table runner was complete! I coordinated a pick up with Carly and Tifani of Sage & Swan and also included one of my wall hangings so they could have variety if they needed.
As this project was coming together, I realized my friend Lindsay Hollinger was also involved. She designed a wedding invitation for the shoot. Sage & Swan had contacted a few local (yay!) artists for their shoot.
The results of the photoshoot were amazing! The colors are so vibrant and I love the textures and all the elements. The models were beautiful and the whole shoot had a feeling of uniqueness that I hadn't seen in typical desert wedding photoshoots before. Check out the photos below!
---